Now that summer is over, we bet you have been breathing signs of relief. After all, there is hardly anyone who would like the idea of the scorching sun beating down on their skin throughout the day. But, a fair warning, you, or rather your skin, are not out of the woods yet as the monsoon comes with its own set of skin problems. And you need to be on top of your game while creating your monsoon skin care routine. As the humidity begins to rise, our skin finds it difficult to retain its natural glow and faces a host of other problems like itchiness, rashes, breakouts, etc. But fret not; with the proper know-how, you easily chalk out a monsoon skin care regimen that will keep the problems at bay.
So here we are telling you some basic monsoon skin care tips that are crucial in keeping your skin perfectly healthy during the rainy season.
Monsoon skin care for all skin types
Skincare routine can't be the same for everyone. So, we have jotted down several rainy season skin care benefits that are best suited for different skin types.
Oily Skin

Monsoon can be tricky if you have oily skin. The high humidity and moisture in the air lead to the excess secretion of sebum (skin oil). It acts as a magnet for pollutants like dust and toxins that ultimately clog up the skin pores, calling for extensive monsoon skin care. The first step that one can take is cleansing. The regular cleaning up of dirt and grime (at least twice a day) leaves the skin refreshed & hydrated. This prevents blackheads and acne breakouts. The rainy season face care routine should include exfoliation (twice a week) so that the dead skin cells get wiped off.
Dry Skin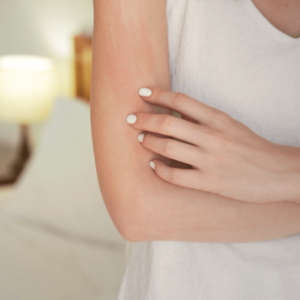 Dry skin comes with its own set of problems. The skin becomes itchy and scaly during the monsoon, giving it a perennial irritating feeling. It can give a vibe of dull skin in the monsoon. One needs to use an ample amount of moisturizer to keep the skin hydrated. Also, people with dry skin in the monsoon need to restrict the exfoliation sessions to one, so that they don't lose natural skin oil. 
Sensitive Skin
A monsoon skin care routine for sensitive skin is a huge challenge. The constant rain, coupled with the hot & humid weather conditions, makes sensitive skin irritable. The dirt often combines with sebum and blocks the pores, causing breakouts and acne. Hence, monsoon skin care for sensitive skin should start with exfoliation of the skin 2-3 times a week. Also, sensitive skin care during the monsoon calls for a minimalistic approach and a switch to natural skin products if possible.
Combination skin
It is a skin type where one part feels oilier than the other. The T-Zone, i.e., the forehead, nose, & chin, feels greasy compared to other parts. Monsoon skincare for combination skin requires targeted efforts. For the greasy part, exfoliation is to be used to remove excess oil. Similarly, an oil-free moisturizer must be used for monsoon skin care just to tap the right amount of moisture.
Monsoon Skin care Tips for beginners
There are some absolute thumb rules that you need to follow as a routine for skin care in rainy season. Here it goes:
One of the main monsoon skin care tips will be to cleanse the skin. With Ras Bold Coffee- Cinnamon face wash, one can clean away the grime that accumulates on the skin due to humidity, making it a good option for rainy season face care.
Removing the excess sebum from the skin remains an important task in your monsoon skin care routine. Try Ras Bold's Charcoal facewash. The activated charcoal pulls away the sebum, preventing acne or breakouts.
Vitamin C helps in giving your skin an instant glow. It becomes convenient if you have skin care tips for rainy season.
One of the vital steps for skin care for monsoon includes the use of toner. For example, Ras Bold Natural Toner helps in getting rid of dirt and gives a non-greasy look for monsoon.
An often-overlooked aspect of skin care in rainy season is giving less importance to moisturization and hydration. A product like Ras Bold's 9 herbs with hyaluronic acid is the perfect ingredient for monsoon skin care that locks moisture without making the skin oily.
And the final monsoon tip for skin would be to go natural. Natural products are ideal for humid conditions as they are considerably lighter and don't clog pores.
In Conclusion
So, to surmise, the monsoon comes with a lot of skin problems that shouldn't be left unchecked. A properly developed monsoon skin care is the ideal anecdote to fight back so that you remain confident & "weather" any condition that may come your way.
FAQs
The high humidity and bacteria during the rainy season cause clogging of skin which eventually causes acne. Thus, monsoon tips for skin care involve controlling oils to check skin breakouts.
Does monsoon affect acne prone skin?
Yes, the high humidity during the rainy season causes skin breakouts. So, monsoon skin care should involve daily cleansing so that excess oil does accumulate on the skin.
What are some common monsoon skin care for oily skin?
Here are some essential monsoon skin care tips that you can follow for oily skin: Exfoliate twice a week, moisturize daily, use natural products, and more importantly stay hydrated.
Do I need to use sunscreen during monsoon?
Yes, skincare even in the rainy season calls for sunscreen. It helps in protecting the skin from UV rays & prevents premature aging.