Finding a person who does not want lustrous skin would be tough. However, it is pretty common for us to lose focus on skincare in the grind of our daily life. And, our skin starts to lose its natural moisture, becoming dry, dull, and flaky. This is where body butter comes in. It is the magic potion that helps the skin retain its moisture and gives it a healthy glow. The body butter benefits are not just limited to returning the suppleness and elasticity of skin but also treating several skin problems, which we will discuss in the next few sections. We will also be discussing the benefits of body butter ingredients such as shea butter, turmeric, aloe vera, and many more.
Before we go any further, it is important to understand that body butter works best on dry and rough skin. However, if you have oily skin, then organic body butter can be your best bet. So without much ado, let's get you the best body butter, shall we?  
The Body Butter Benefits
There are several major takeaways from the continuous use of this product. Let us sum up its benefits for you:
●     Smoothens the rough skin
Body butter for dry skin is like a secret elixir. It is especially ideal for the rougher portions of the skin. Apart from faces, it can be used in different regions of the body, such as elbows, feet, and limbs.
●     Improves moisture content
Another important benefit of the body butter cream is that it penetrates deep into the skin, hydrating the inner tissues. The body butter for dry skin reaches the nooks and corners of the skin, creating a defensive barrier to lock in the moisture.
●     Prevents aging
It helps in rectifying scars and skin folds. Body butter is effective in reducing the signs of ageing such as crow's feet, wrinkles, and creases.
●     Protects skin
One of the many benefits of using body butter is that its antioxidants help in preventing the skin from harsh environmental conditions. It protects the skin from UV rays and toxins, giving it a healthier glow.
Top Body Butter Ingredients
Before you start looking for the best body butter online, here is a list of ingredients that guarantee a good product.
●     Shea Butter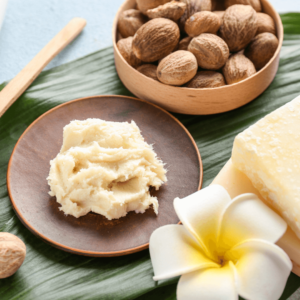 It is one of the most important components of organic body butter. It helps to lock in moisture, reducing wrinkles and skin disorders. Shea butter moisturizer helps in minimizing irritations along with its antibacterial and antifungal properties that help in fighting acne. 
●     Cocoa Butter
Cocoa Butter, when coupled with shea butter moisturizer forms a formidable body butter cream. Coca and Shea butter lotion hydrates and enriches the skin with antioxidants and free radicals. Like shea body butter, cocoa body butter lotion helps in creating a moisture barrier.
●     Tea Tree oil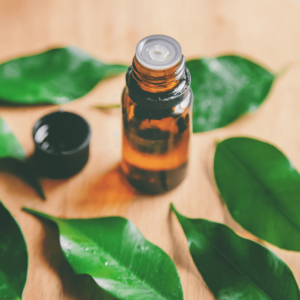 It is an important ingredient for organic body butter. It helps in soothing skin while keeping a leash on pimples and acne. Cocoa and shea butter lotion when primed with tea tree oil boost healing with a significant reduction in dermatitis. 
●     Almond Oil
Almond oil, when coupled with cocoa body butter lotion, smoothens skin texture and evens skin tones. Body butter helps in reversing sun damage and removing undereye circles.
●     Wheat Germ Oil
It helps to calm and soothe the skin, making it more radiant. When clubbed with Cocoa body butter lotion, it helps in nourishing the skin, keeping it soft and supple.     
●     Honey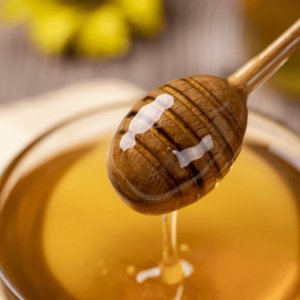 Honey paired with shea butter lotion adds an extra bit of oomph to the simplest of natural body butters. The honey boosts the hydrating and repairing properties of shea butter moisturizer, protecting the skin from damage.
●     Aloe Vera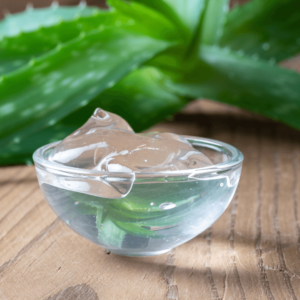 When it comes to skincare, there is perhaps not a better ingredient than aloe vera. It reduces inflammation, preventing chances of skin breakouts, and giving an overall cooling, something that goes amiss in body butter.
●     Manjistha
Even the best body butter often gets picked off as a skincare product that makes the face greasy. Manjistha, on the other hand, aids in restoring balance and managing external inflammation by keeping acne at bay.
●     Neem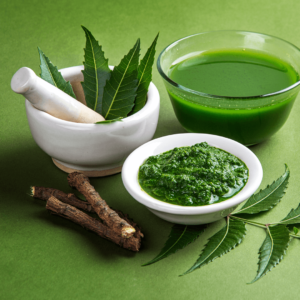 Neem oil, coupled with cocoa butter body lotion, soothes the skin almost instantly. Neem's anti-bacterial property prevents skin breakouts, providing a brighter skin tone.
●     Haldi
Turmeric is one of the top-notch ingredients for natural body butter. When added to shea butter moisturizer, it improves the skin texture by slowly diminishing the scars and spots, giving a radiant look.
●     Daruharidra
It is helpful in healing wounds and scars. So, next time you opt to buy the best all-natural body butter, look out for this ingredient.
●     Ashwagandha  
Ashwagandha, or Indian ginseng, increases the healthy lifespan of the cells, reducing the signs of ageing and blemishes. 
How to use it?
Even if you have the best all-natural body butter, you would still need to have a grip on how to use it so that you get the desired result. Here is how:
Take a shower. Preferably with lukewarm water. (Warm water tends to dry skins)

Dry yourself.

Apply body butter within 5 minutes and massage slowly.

Do it 2-3 times a week.

Or you can simply apply the body butter cream before going to sleep and watch the magic happens.
Who Should use?
Let us get to the part where we figure out the group that will benefit the most from using herbal body butter.
●     Extreme dry skin
Cocoa and shea butter lotion are best suited for people with extremely dry skin. It nourishes the skin and helps to lock in moisture for long hours. Hence, body butter for dry-skinned people is a godsend. 
●     People weathering extreme condition
Body butter benefits people who endure extreme weather conditions. It helps to protect the skin from UV rays, dust, & toxins, keeping it moist and supple.
●     Sensitive Skin
The anti-inflammatory property of the best all-natural body butter prevents dryness of sensitive skin and reduces itchiness.
●     Look-conscious people
Shea body Butter lotion reduces the signs of ageing like wrinkles and dark spots. It is also good for expectant mothers as it reduces stretch marks.
Why RAS?
Before you start looking for body butter online, allow us to give a few pointers about RAS Bold Herbal
●     100% Ayurvedic
Every Ras Bold herbal product, including 9 herb body butter, is completely ayurvedic. The ingredients of buddy butter are completely designed by ayurvedic experts and are approved by the Ministry of Ayush.  
●     Budget-Friendly
Looking for the best body butter cream? Then give 9 herb body butter a try. We have kept the body butter price under Rs 200 so that it remains accessible to everyone.
●     Completely vegan
Each ingredient of RAS Herbal Bold is completely sourced from plants, hence completely vegan.
Now that we are done, it's time for you to add your favourite Ras product to the kart and order it now.
FAQs
Q. How often should we use body butter?
A. If you have dry skin, use daily. In case of oily kin use it 2-3 times a week.
Q. Is shea body butter good for oily skin?
A. For oily skin, try using organic or herbal body butter which are lighter in texture.
Q. Do we need to rinse of body butter?
A. No, please leave it on your skin for best result.
Q. What is the best body butter for dry skin?
A. Ras' s Herbal body butter priced at Rs 200 can be excellent for dry skinned people.
Q. Is GMP certification necessary?
A. Yes. It is hallmark of quality. And every RAS product is GMP certified.