Product Short Description(For 1st part)
Experience the transformative power of our 9 Herbs De-Pigmentation and Anti-Aging Serum. Enriched with a powerful blend of natural ingredients including Kojic Acid, Lactic Acid, Nicotinamide, Hyaluronic Acid, and a concoction of botanical wonders, this pH balanced serum offers a holistic approach to skincare. Achieve nourished, hydrated, and even-toned skin while effectively combating pigmentation and signs of aging. Free from harmful additives, our serum is the perfect addition to your skincare routine for a radiant and youthful complexion.
Benefits:
Unlock the secret to radiant beauty with our 9 Herbs De-Pigmentation and Anti-Aging Serum. This advanced formula:
– Diminishes Pigmentation: Kojic Acid and Lactic Acid work synergistically to fade dark spots, sun damage, and hyperpigmentation, revealing a more even skin tone.
– Rejuvenates and Firms: Nicotinamide supports collagen production, reducing fine lines and wrinkles for a youthful, firm complexion.
– Intense Hydration: Hyaluronic Acid deeply hydrates, plumping the skin and minimizing moisture loss.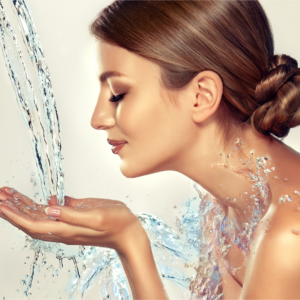 – Holistic Nourishment: Botanical extracts like Haldi, Daruharidra, and Neem provide essential vitamins and antioxidants for a rejuvenated glow.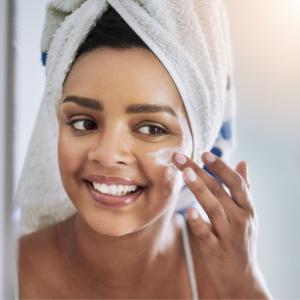 – pH Balanced: Maintains the skin's optimal pH level, promoting a healthy barrier function.
– Silicone, Essence, and Paraben Free: Crafted without harmful additives for a clean and non-irritating formula.
Key Ingredients:
Certainly, here are the individual key ingredients highlighted:
Kojic Acid: This ingredient is specifically formulated to target pigmentation and effectively even out your skin tone. It helps in reducing the appearance of dark spots and blemishes.
Lactic Acid: Known for its exfoliating properties, Lactic Acid works to gently remove dead skin cells, resulting in a smoother and more refined complexion. It's an excellent choice for improving skin texture.
Nicotinamide: This powerhouse ingredient is focused on reducing signs of aging. It supports collagen production, which helps in minimizing fine lines and wrinkles, ultimately giving your skin a more youthful appearance.
Hyaluronic Acid: Hyaluronic Acid is your go-to for deep hydration. It has the remarkable ability to hold water, keeping your skin well-hydrated and giving it that coveted plump and radiant look.
Haldi (Turmeric), Jojoba, Saffron Oil, Neem, Tea Tree: These botanical wonders collectively provide holistic nourishment to your skin. Haldi, also known as Turmeric, has anti-inflammatory and antioxidant properties. Jojoba oil balances skin oil production. Saffron oil adds radiance. Neem and Tea Tree offer antibacterial benefits.
Wheat Germ Oil, Moringa Oil: These oils are essential in the fight against signs of aging. Wheat Germ Oil is rich in vitamin E and can help reduce the appearance of fine lines. Moringa Oil provides essential nutrients for a more youthful complexion.
Haridra (Turmeric), Daru Haridra (Tree Turmeric), Licorice: These ingredients provide antioxidants to your skin. Haridra and Daru Haridra are types of Turmeric, while Licorice helps to brighten your complexion and even out skin tone.
Tomato Extract, Potato Extract: These extracts promote even-toned skin. They can help reduce redness and blemishes, leaving your skin looking more balanced and clear.
Kesar Oil (Saffron Oil), Vitamin E: Kesar Oil is known for enhancing your skin's radiance. Vitamin E is a powerful antioxidant that helps protect your skin from free radicals and environmental damage while promoting a healthier, glowing complexion.
How to Use:
Achieve optimal results by following these steps:
Cleanse your face with RA Face Wash and gently pat dry.
Apply your preferred toner.
Once the toner is absorbed, dispense two drops of 9 Herbs Serum onto your fingertips.
Gently spread the serum evenly across your face, avoiding the eye area.
Allow the serum to absorb before applying additional products.
Who Can Use:
Our 9 Herbs De-Pigmentation and Anti-Aging Serum is suitable for all skin types seeking to address pigmentation, aging, and achieve a balanced complexion.
Why Ras Bold Herbal:
Ras Bold Herbal is committed to combining the wisdom of nature with innovative skincare solutions. Our 9 Herbs Serum reflects our dedication to creating products that are free from harmful additives while delivering transformative results. Trust in the power of nature for your skincare journey.
FAQs
Q: Can I use this serum every day?
A: Yes, this serum is gentle enough for daily use. Start with a once-daily application and adjust as needed.
Q: Is it suitable for sensitive skin?
A: Yes, our serum is formulated with a blend of natural ingredients and is free from harsh additives, making it suitable for sensitive skin types.
Q: How long before I see results?
A: Individual results may vary, but consistent use over a few weeks can lead to noticeable improvements in pigmentation and skin texture.
Q: Can I apply makeup over this serum?
A: Absolutely! Allow the serum to fully absorb before applying makeup for a smooth and radiant canvas.
Q: Is this serum tested on animals?
A: No, we are proud to be a cruelty-free brand. Our products are not tested on animals.